home
Honduran people's demands for a UN-backed Commission Against Impunity and Corruption
11 July
The Environmental Network for Central America (ENCA) has started an online petition to help gather individual voices of support with the Honduras' people who are currently marching in the largest protests their country has ever seen, demanding an end to corruption. These demands are growing, but they need international support to pressure their government.
Honduras has been suffering repression since 2009, when a military coup brought the National Party to power. This year, Honduran press revealed evidence of millions of dollars stolen from their social security institute, and used partially to fund the last National Party election campaign. They have demostrated that at least 3,000 people have died as a result, from lack of health care. This has ignited the "Indignados" movement, which represents a call from the people of Honduras for change. They are demanding a UN-backed International Commission against Corruption, but the corrupt president Juan Orlando Hernández is refusing calls.
You can sign the petition here. If you would like to endorse the letter as an organisation, you can do so by contact ENCA.
Film screening of 'Portraits of a Search' and solidarity with the families of the 43 students from Ayotzinapa.
9 June
This Thursday 11 of June, the Institute of the Americas will be screening the documentary 'Portraits of a Search' ('Retratos de una Búsqueda', Mexico, 2014), directed by Alicia Calderón. The documentary follows the steps of three mothers in the search of their disappeared children, in a Mexico where more than 20.000 people have disappeared as "collateral damage" since the beginning of the "war on drugs". After the screening there will be time for a discussion with Alicia Calderón on the disappearances in Mexico.
This takes place only a a few weeks after the Euro-Caravan for the 43 disappeared students from Ayotzinapa made its final stop in London, after travelling across Europe looking for suppport for their claims for justice. The Mexican government seems ready to forget and turn the page on that dark September 26, by declaring the 43 students dead, failing to take responsibility for their disapppearence, being reluctant to tipify the event as forced disapperence (this would make it a crime against humanity) and even trying to fool the families of the students about the location of their remains. CAWN solidarises with the families of the 43 from Ayotzinapa, and with their cause, which is not the cause of 43 families, or of a town in Guerrero, but as Omar García Velásquez – student and survivor of the attacks on September 26- said, it's a cause that affects a whole country, where nobody takes responsibility for the thousands of disappeared.
Join the online action for May 28, International Day of Action for Women's Health!
26 May
May 28 is the International Day of Action for Women's Health and it provides a great opportunity to remind our government leaders that Women's Health Matters.
This year's campaign focuses in ensuring that the Post-2015 Development agenda addresses women and girls' Sexual and Reproductive Health Rights. One form of violence women from many part of the world suffer on a far too regular basis is the denial of their right to access sexual and reproductive health services.
Reproductive rights are very contentious in many parts of the world, with legislation compromising maternal health by hindering women's ability to control their fertility, in particular the access to contraception and termination of pregnancies. The criminalisation of women who have suffered obstetric complications or attempted an abortion is sadly a common reality, and draconian laws that ban abortion even in cases of rape, risk of the mother's life or non-viable pregnancies attack women's right to health, to life, to decide over their own body. Cases like the Paraguayan 10-year-old girl forced to continue a pregnancy after being abused, or the 17 Salvadoran women jailed and charged with murder after having obstetric complications, should belong to the realm of fiction – but they are real cases that violate children and women's rights in many different levels.
Governments across the globe must be reminded that they cannot ignore situations like these, that they must act to ensure women's access to Sexual and Reproductive Health services, and that their lack of action equals institutional violence against women.
Sign up for the Thunderclap, send a letter to your government representatives and/or share your views in the blog parade on women's health. Join us in calling on governments and the international community to end violence against women in ALL its forms.
We are many and we are strong. Spread the word!
Statement by CODEMUH and REDCAM for Workers' Memorial Day and International Workers' Day
5 May
The Honduran Women's Collective (CODEMUH) and REDCAM have issued statements regarding the current work conditions of maquila workers in Honduras. They have stressed their concern with the lack of compromise of the Honduran government to take action against precarious contracts that do not meet labour regulations, and to prevent working conditions that threaten to permanently damage maquila workers' health. CODEMUH also makes a call to North American and European consumers to note the responsibility of trade marks and government representatives, on the physical and psychological deterioration experienced by so many maquila workers. You can read these statementes here.
New film: Justice for My Sister – Guatemala Domestic Violence Case Challenges for Justice
8 April 
'Justice for My Sister' follows one Guatemalan woman during her three-year battle to hold her sister's killer accountable. She encounters many obstacles: a police record that is missing, a judge who is accused of killing his own wife, and witnesses who are too afraid to testify. In the end, Rebeca emerges as a leader in her community with a message for others that justice is possible. .Justice for My Sister film was shown in a special screen at the UN Commission on the Status of Women 59 in NYC, sponsored by the US Mission to the UN and the Guatemalan Mission to the UN. Watch the trailer here.
New video of interview with Director of Salvadoran Group for the Decriminalization of Abortion
26 February 
CAWN interviewed the Director of the Salvadoran Group for the Decriminalization of Therapeutic, Eugenesic and Ethic Abortion when she recently visited the UK in December 2014, a speaker tour organised as part of a joint project between the Group and CAWN. In this video Morena Herrera explains why abortion is not only illegal but also stigmatized in El Salvador, and how this effectively means imprisonment for many, mostly poor and rural, women. Morena also details the very precarious conditions of incarcerated women.
13th Latin American and Caribeean Feminist Convergence in Lima
17 February
Women in Development Europe (WIDE+), a trans-European network of which CAWN is an active member, participated in the 13th Latin American Feminist Convergence, held in Lima last November 2014. Edmé Dominguez reports on the meeting.
This Encuentro (meeting) should be framed in the general tradition of Latin American feminist meetings that have been taking place since 1981. These are meetings of grassroots movements working for women's rights in a very broad form. Through all these years such Encuentros have witnessed the evolution of the movement through an enormous diversity of "identities" that are gaining recognition and collective organizing. The objective of these Encuentros is not the shaping of common strategies by the women and feminist movements but the acknowledgement of the evolution of its different sectors and issues, the dialogue and discussion among different perspectives and even opposing viewpoints and finally the negotiation of differences reflected in broad joint declarations.
Defying the total ban on abortion in El Salvador
3 February
CAWN has translated an interview to Salvadoran feminist, ex guerrillera and defender of women's rights Morena Herrera. Recently the group she leads to decriminalize therapeutic abortion in El Salvador achieved a landmark success after a year campaigning. Read more about it!
Our Winter Newsletter is out!
16 January 
The latest CAWN newsletter is now out.
We provide details and information about CAWN's current work and recent publications, as well as a round-up of the struggles and campaigns being conducted by women in the Central America region to defend their rights and those of their communities.
This issue focuses particularly on the struggles of Women Human Rights Defenders (WHRD), many of whom are members of indigenous communities in Guatemala and Honduras, who have shown enormous courage in fighting to defend their rights and those of their communities against the interests of large companies and the state. Many WHRDs are attacked, not only because they dare to challenge the establishment, but also because they are women who dare to challenge men. Their courage has not always received the recognition it deserves and it is for this reason that we have chosen to highlight their struggles in this Newsletter.
We hope you enjoy it and feel motivated to take action in solidarity with the women in the region.
'Stories of El Salvador: Voices of Women', an exhibition in London on the struggles of Salvadoran women
5 January
CAWN's wishes all our supporters and followers a very happy 2015. We invite you all to visit a new film & photographic exhibition documenting the challenges of living in the Central American country of El Salvador & their fight to overcome them.
Stories of El Salvador is an exhibition that shows another side of the country through the voices of women and celebrates what they are doing to overcome daily challenges. An exhibition by Hackney filmmaker and photographer Elam Forrester, she was inspired by the spirit and passion of the communities she has worked with and their commitment to fighting gender and social inequalities.
The exhibition documents the vital role that women played in the 1980s Civil War and explores how their skills and determination have continued to empower women to the present day, helping them to build small businesses and establish women's rights organisations.
CAWN will deliver a talk as part of the exhibition on Monday 12 January (7 – 8:30pm) at the Lower Cafe Gallery (Rich Mix, 35 -47 Bethnal Green Road, E1 6LA). A discussion focusing on some of the most prominent issues women in Central America face today and their initiative to resolve them. Come join us!
Before visiting, make sure to get some background analysis with CAWN's paper 'Women renegotiating power paradigms in Central America: their struggles in the second half of the 20th century'.
Meet the fearless women activists of Mexico, Honduras, and Guatemala
9 December
Women like Alma Gomez, a former guerilla fighter now working to seek justice for victims of femicide in northern Mexico; Daysi Flores who took to the streets in defense of democracy after the 2009 coup in Honduras; and Nobel Laureate Rigoberta Menchú Tum of Guatemala, who works to defend the rights of indigenous communities who are still treated like second-class citizens in Guatemala.
These women are on the frontlines of facing a crisis of violence in Mexico, Honduras and Guatemala.
The new series of short documentaries 'Women Crossing the Line: Defensoras in Mexico, Honduras, and Guatemala' we meet women activists from the region who have stood bravely to demand an end to violence and greater rights.
Watch the first of these documentaries here.
Meetings in Glasgow and London with CAWN's  Salvadoran partner the Citizens Group for the Decriminalization of Abortion on 7 and 9 December
1 December
CAWN is working with our Salvadoran partner the Citizens Group for the Decriminalization of Abortion (Agrupación Ciudadana) on the campaign to free 17 Salvadoran women in prison, with hefty sentences. They are women from
poor economic backgrounds, some living in rural areas who suffered obstetric problems during their pregnancies and many had given birth without medical assistance. They suffered complications and were bleeding when they got to
hospital asking for help, but then they were reported and prosecuted for aggravated murder. Advocates defending women's reproductive rights and the right to therapeutic abortion are receiving regular harassment from
Salvadoran religious leaders, policymakers and the media.
We are very pleased to have a visit from Morena Herrera, the president of the Agrupación Ciudadana who will be in London on 9 December (6.30 – 8.30 pm).  At this meeting she will give us an update on the Free the 17 Campaign and on
the situation of women's rights in El Salvador more broadly. We will also discuss how you can get involved in the campaign and with CAWN. RSVP by Thursday 4th December.
For those based in Scotland, don't miss a meeting with Morena on Sunday 7 December at the Trade Unions headquarters in Glasgow.
An assessment of health sector guidelines and services for treatment of sexual violence in El Salvador, Guatemala, Honduras and Nicaragua
24 November
A new paper by Reproductive Health Matters looks into Central American services for victims of sexual violence.
In Central America, approximately 12% of women report ever having been forced to have sex by an intimate male partner, and sexual violence by others is also a frequent experience. All Central American countries are signatories to human rights agreements that oblige States to ensure access to comprehensive health services for victims of sexual violence, but there is limited information as to whether these agreements have been translated into policy and practice. This article critically examines health sector guidelines for the treatment of sexual violence in El Salvador, Guatemala, Honduras and Nicaragua, and reports on an assessment of services in 34 private- and public-sector facilities in the four countries.
Overall, policies were consistent with international agreements and included guidance on detection and documentation of violence, forensic examination, treatment, referral and follow-up care. However, only a small proportion of women who experience sexual violence actually seek care. The challenge facing all four countries is to turn policy into practice. Screening practices were inconsistent, and policies needed to indicate more clearly the roles and responsibilities of health care providers and forensic specialists. Finally, women's right to privacy and confidentiality in reports of cases to legal authorities needed further consideration, as well as the importance of providing all services at a single location.
HIV-positive women in Central America are being pressured to undergo sterilisation
10 November
Thomson Reuters Foundation reports that HIV-positive women in Central America are being pressured to undergo sterilisation by prejudiced health workers and misled about the risk of the virus being transmitted to their unborn children. According to a survey of 285 women living with HIV in El Salvador, Honduras, Mexico and Nicaragua found that 23 percent of them had faced pressure from doctors and nurses to be sterilised.
The rate ranged from 20 percent in Nicaragua to 28 percent in Mexico, according to research by the Mesoamerican Coalition for the Reproductive Rights of Women with HIV and the Women and Health Initiative of Harvard School of Public Health.
The consistency of the rate over a large geographical area pointed to a "systematic pattern" of pressure and coercion, said Harvard School of Public Health research fellow Tamil Kendall.
"It's really unthinkable that women living with HIV are being pressured and forced into sterilisation when treatment almost eliminates the possibility of the mother-to-child transmission… and also provides options for safer conception and pregnancy," said Kendall, who presented the research at an international conference on AIDS in Melbourne on Wednesday.
"In this day and age there is no reason why women living with HIV can't safely exercise their reproductive rights," she told Thomson Reuters Foundation, adding that it was likely the attitude of many health workers reflected the stigma towards HIV in the societies they came from.
Citing U.N. figures, Kendall said there were 59,300 women living with HIV in Mexico, El Salvador, Honduras and Nicaragua in 2012.
The study said pregnant HIV-positive women – whose status was known to health workers – were almost eight times more likely to report an experience of pressure or coercion to sterilise than women with HIV who were not pregnant.
In one "particularly horrific" case, Kendall said a Mexican woman was sterilised without her knowledge while under anaesthetic for a Caesarean section. When she woke up, her thumb had been dipped in ink so it could be used on a consent form.
In another case, a young Salvadoran said nurses threatened to deny her a Caesarean unless she signed up to be sterilised. Without treatment, the likelihood of a HIV-positive mother transmitting HIV to her child during pregnancy, labour, delivery or through breastfeeding ranges from 15 percent to 45 percent, WHO says. With the right antiretroviral treatment, the transmission rate can be reduced to below 5 percent.
The women surveyed in Central America came from rich and poor, rural and urban backgrounds. Women of indigenous and African descent were also represented. Yet neither their ethnicity, nor economic or social status were significant in indicating whether they were likely to be pressured to sterilise, Kendall said.
Sepur Zarco Case: Military commands taken to court for rape, sexual slavery and by domestic violence in Guatemala
17 October
Miguel Ángel Gálvez Judge presides over the court of First Instance located on the 14th floor of the Tower of Courts in the center of Guatemala City. On Tuesday October 14, 2014, after three hearings with the Public Affairs Ministry, the prosecutor, the plaintiffs and the defense of two accused military officers, Judge Miguel Ángel Gálvez decided, following an analysis of the law in light of the evidence, testimony and arguments, that army colonel Esteelmer Giron Reyes and former military commissioner Heriberto Valdez Asij will have to attend an oral and public trial.
Esteelmer Reyes Francisco Girón is accused of crimes against humanity in the form of sexual violence, sexual slavery and domestic slavery, murder and humiliating treatment. Heriberto Valdes Asij is accused of forced disappearances and sexual violence. The historical truth will be heard at a trial in October 29. Until then, both accused remain in preventative prison.
Sepur Zarco is a community in the municipality of El Curtain in Izabal. There, a military detachment was built during the hardest years of war and genocide, in 1982. There, crimes against humanity were committed, rape and sexual slavery of about 20 women amongst them. Some of these women had their husbands and relatives killed or disappeared too.
Read more about this case in CAWN's blog!
Eviction of the Garifuna community of Barra Vieja
3 October
The Garifuna Women of the Tornabe Network, Honduras, have informed our partners that on September 30, at dawn, their families were evicted and their homes destroyed. Below, more information from AlbaTV and Radio Mundo Real:
Barra Vieja is located adjacent to the tourism project Indura Resort, owned by the Honduran power elite. Since August 6 there have been eviction attempts, only frustrated by the repeated failures in the drafting of an eviction order.
"Right now we are being evicted by the police and the army, and this is due to pressure from the Indura Beach & Golf Resort project," Nahum Lalin said to Radio Mundo Real, He's the leader of the Honduran Black Fraternal Organisation (OFRANEH), and eexplained how the police and military contingent proceeded to destroy the homes of families that have been living in these lands for more than 55 years. The members of this community are about to become landless and homeless, not knowing where to go. The eviction order came from the Justice Department  of Tela. Prominent public servants took part in the process of eviction, and have admitted receiving funds from Indura Beach.
Recently a hearing was held regarding the case of the Garifuna community of Triunfo de la Cruz to the Inter-American Court of Human Rights (IACHR), regarding the offences committed against the community in the 80s, instigated by the rising of speculation in property.
The human and territorial rights of the inhabitants of Barra Vieja have been violated, and this eviction is part of a strategy to clear the coast from the Garifuna people, who have inhabited the area for more than two centuries.
OFRANEH demands respect for the rights to the ancestral lands of the Garifuna in Honduras, and the immediate return of usurped lands in Barra Vieja.
Sources: Alba TV and Radio Mundo Real
Autumn 2014 Newsletter out!
25 September 2014
A new turn of the season means another edition of CAWN's newsletter. More calls for solidarity, analysis, news, invitations and more – from women and from Central America.
In this edition, we highlight the plight of hundreds of women are incarcerated across the world for having suffered miscarriages, stillbirths, and other obstetrical complications without medical attention. Many of them live in El Salvador, where they usually live in poverty and marginalization. Some have been sentenced to decades behind bars.
CAWN is working with our Salvadoran partner the Citizens Group for the Decriminalization of Abortion on a campaign to free 17 of these Salvadoran women. On 25 September these issues will be discussed in detail in an evening debate in London.
Indeed, this year is one of intense activity around this International Day of action in London, with a coalition of feminist and human rights organisations launching the first edition of the Festival of Choice. The Festival encourages people to join the discussion on abortion and works on an inclusionary basis and it offers a packed programme of activities between 23-28 September – including ours on Thursday 25th!
A pro-choice festival in London!
22 September
CAWN is proud to have co-organized the Festival of Choice, a pro-choice festival to take place in London between 23 and 28 September, in solidarity with the International Day of Action for the Decriminalization of Abortion (28 September).
We aim to raise awareness of threats to reproductive rights and the plight of women and girls in countries around the world who do not have access to safe and legal abortion. The Festival also wishes to celebrate the solidarity and activism of women and girls and to strengthen and support the prochoice message, locally and globally.
On Thursday 25 September, a special Solidarity discussion on the Impact of Banning Abortion in El Salvador will take place between 6.30 and 9.30pm at Amnesty International Secretariat - book your free tickets now to avoid disappointment!
Honduran woman campesino leader assasinated
8 September
Last week, Honduran campesino leader Margarita Murillo was murdered by three heavily armed men while she was working her land in Villanueva, in the northern region of the country. Her assassination is one of the latest in a long string of murders against members of the Honduran Resistance Front. Former Honduran president Manuel Zelaya is one of the principal leaders of the Resistance. He confirms that since the 2009 coup d'etat, which removed him from office, the political repression and persecution against members of the resistance has only increased.
"Since the coup d'état there has been murders, massacres and barbarous acts. We have made complaints to every international organization and nobody does nothing to stop this brutal and criminal subjugation of which the people of Honduras are victims," explained Zelaya.
About Murillo's murder, he expressed that "the death of Margarita Murillo, a campesino and workers' leader and a coordinator of the Resistance and the Libre Party is a crime that we emphatically condemn, because it touches the most intimate fiber of all of the Honduran people. With her murder, more than 300 resistance members have been assassinated. In five years, 36 journalists have been killed, as have 80 lawyers, and more than 73 campesino leaders. And more than 1,500 complaints of human rights violations that still have yet to been investigated".
MEP Jean Lamberts supports campaign El Salvador
11 August
CAWN warmly welcomes the support of Jean Lambert MEP. Jean is a Green Member of the European Parliament and voices like hers are crucial to save women's lives and to free unjustly incarcerated women in El Salvador. CAWN thanks Jean Lambert wholeheartedly.
Jean has issued a statement calling for the abolition of a law prohibiting all cases of abortion – and even criminalising miscarriage victims – in El Salvador.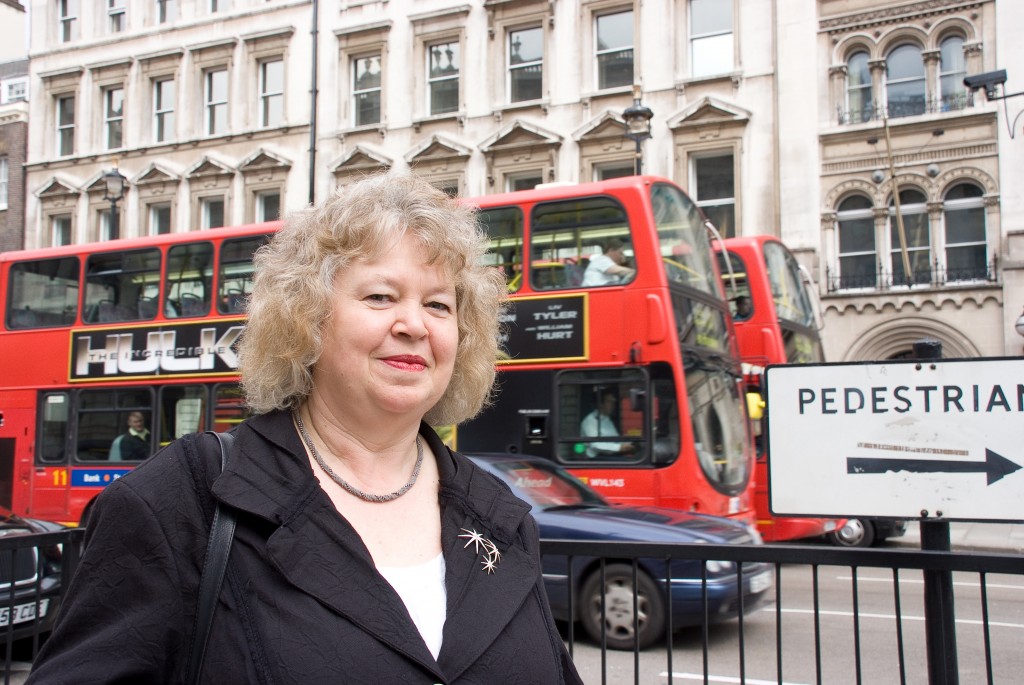 ---
about us >>